Hua Wei Machine produces high-quality, high-performance, very long lasting scrap shearing machines. Below are the existing models: 

600T / 1000T / 1500T / 2000T Models
The most Economical & Efficient shear for your business:
Versatile machine for wide-range of scrap types
Capable of non-stop 24 hrs Operation
Consistent Performance with high efficiency
High-Quality Cylinders (SGS-CE Qualified), with no maintenance needed!
Adjustable Blade Clearance, for easy operation
Built-In Steel Oil Pipes, No damage by outer force
Top & Side Pre-Pressing Process
Cycling Auto-Cutting: Only one operator required
Low Electricity Consumption / Low Operation Cost
Fastest Payback (ROI)
Super Strength Structure, Wear-Resistance Steel Protection
Extremely Long Life Span - Runs well over 30 years
Quality Guarantee provided!


Model No.
Unit
HW600
HW1000
HW1000S
HW1500S
Shearing Force
t
600
1000
1000
1500
Shearing Cycle
sec/cycle
50-55
50-55
40
55
Blade Opening Dimension
mm
2100W x 630H
2100W x 680H
2280W x 880H
Feed Tank Inner Dimension
mm
7000L x 2000W x 800H
7700L x 2000W x 1000H
8400L x 2180W x 1300H
Pre- Pressing Process Openning
mm
2100W x 1200H
2100W x 1250H
2280W x 1700H
Top Pressing Force
t
150
200
340
Side Pressing Force
t
100
100
250
Operation Oil / ISO V G#46
l
3600
4200
5000
6000
Driving Motor
HP
120
150
200
350
Total Driving Power
kW/hr
90
112
150
262
Control Method
 
Models can be in Mode of Manual / Automatic / Remote Control
For more detailed information please click HERE
---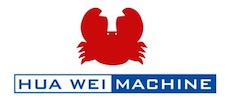 HUA-WEI MACHINE was founded in 1968. A reliable and trustworthy manufacturer, specializing in the design & manufacturing of scrap iron/steel shearing machines and special purpose hydraulic cylinders. For over 40 years, Hua-Wei Machine has been devoted to the development and innovation of Automatic Hydraulic Swing-Cut Scrap Shear machines.
Hua-Wei is a proven manufacture of high-quality products and services. To date, Hua-Wai has supplied nearly 500 units of the HW Series Shear for the mid and large-scale recycling yards globally.