AMI GE Drive Systems brings a solid record of outstanding performance in the design, fabrication, installation and commissioning of drive systems and PLC control systems.

AMI GE offers solutions for revamping or new facilities of rod and bar mills based on high performance equipment:

High Performance
     - Deterministic System
     - Synchronous network and Data Acquisition -ISBUS- VME
     - Industrial Protocol over Ethernet
     - Redundant Data sharing : Genius LAN
     - Any Industrial network Protocol (DH +, Profibus, Device Net, Control Net)
     - Reliance DCS, ModBus, etc.

Simple Operation
     - One single tool to diagnose the whole system, from the HMI to the I/O.
     - It uses the same name for the signals, for the whole system, from HMI to the I/O.
     - Friendly and highly graphic HMI

Technological Functions
     - Sequence & synchronization of the Mill
     - Cascade Master Control
     - Cobble Detection and Head and Tail Tracking
     - Loop Control
     - Interstand Low Tension control
     - Fault coordinated Protection
     - Crop Shear Optimization
     - Clutch & Brake
     - Start & Stop
     - Ghost Rolling
     - Recipe Management

For more detailed information on the AMI GE Drive Systems, please click HERE.
---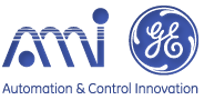 AMI GE is an international automation and control solutions company. They automate industrial processes in diverse industries such as: Steel, Cement, Pulp & Paper, Oil and Gas, Automotive Industry, Mining, among others.

AMI GE offers industry leading equipment, software & services in the areas of Drive Systems, Meltshops and Industrial Automation.

AMI GE is your best ally, in the optimization, control, efficiency, standardization, and security of your processes. AMI GE offers custom fit solutions for all your requirements.