Continuing the tradition of world-class power transmission products, XTEK Universal Joints offer superior performance for the most demanding applications. As the need for increased production and speed becomes a requirement, universal joints provide a more effective and reliable power transmission system

XTEK Universal Joints are designed and manufactured to the highest standards to meet or exceed loading requirements. They take the extra step to ensure proper sizing, providing for a more reliable and cost effective product. Combined with Xtek's exclusive TSP™ integral spade bore designed casings, XTEK Universal Joints are the right choice.

For more detailed information for Xtek's Universal Joints, please click HERE or contact Scancorp Limited.
---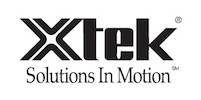 Xtek is a manufacturer of custom machined and heat-treated parts and component assemblies for heavy-duty industrial applications. They provide engineering and metallurgical expertise to solve the toughest power transmission and material handling equipment problems faced by our customers in steel mills, aluminum mills, shipyards, utility plants, and other industries throughout the world.

Since 1909, they've built a reputation by improving the metallurgical properties of steel, and therefore the quality and durability of the parts they manufacture. XTEK engineers developed the Tool Steel Process (TSP), a special heat-treating process that significantly improves the strength and durability of machined components. XTEK uses this TSP process, and other forms of heat treatment, to produce critical components such as brake wheels, track or crane wheels, overhead crane parts, and sheave wheels; gear couplings and u-joints; mill gearing and mill pinions and custom gears; pinch rolls, forged work rolls and other special purpose processing rolls.