Roll end casings are a critical link in the power transmission line of heavy duty industrial applications. The durability of the casing is a function of metallurgy, geometry and application with casing wear being inversely proportional to the hardness level of the casing spade bore.

XTEK offers their integral spade TSP roll end casing featuring a deep, case hardened spade bore which is finished to specified tolerances, keeping roll neck clearances to a minimum. All material is carefully chosen to provide the best case and sub-surface qualities for the application. The opening of each casing spade bore has a large chamfer to aid in the roll insertion during roll change.

While XTEK offers alternate designs, their TSP one piece casing provides a stronger, more reliable casing than casings with wear pads. The TPS process equates to longer life and reduced downtime…both of which improve operating efficiency.

When giving consideration to the selection of a roll end casing, the following factors should always be considered:

     • Hardness
     • Cycles
     • Case Depth
     • Load – Contact Stress
     • Surface Finish
     • Pilot Stabilizing Configuration
     • Operating Environment
     • Roll Neck / Casing Bore Configuration

Xtek's TSP process offers the best combination of surface hardness, case depth and surface finish which has proven to provide the longest life for Roll End Casings.

To learn more about XTEK's highest industry performing Roll End Casings, please click HERE or contact Scancorp Limited.
---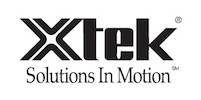 Xtek is a manufacturer of custom machined and heat-treated parts and component assemblies for heavy-duty industrial applications. They provide engineering and metallurgical expertise to solve the toughest power transmission and material handling equipment problems faced by our customers in steel mills, aluminum mills, shipyards, utility plants, and other industries throughout the world.

Since 1909, they've built a reputation by improving the metallurgical properties of steel, and therefore the quality and durability of the parts they manufacture. XTEK engineers developed the Tool Steel Process (TSP), a special heat-treating process that significantly improves the strength and durability of machined components. XTEK uses this TSP process, and other forms of heat treatment, to produce critical components such as brake wheels, track or crane wheels, overhead crane parts, and sheave wheels; gear couplings and u-joints; mill gearing and mill pinions and custom gears; pinch rolls, forged work rolls and other special purpose processing rolls.